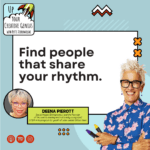 Deena Pierott is also a Social Impact Entrepreneur and the Founder of the award winning and nationally recognized STEM+Arts program for youth of color called iUrban Teen which has chapters in four states, and most recently launched Black Women in STEM 2.0.
Ms. Pierott is also a diversity strategist and international public speaker. She has served on several boards and commissions including a Gubernatorial appointment to the Commission on African American Affairs in the State of Washington.
She has been featured on the following publications: Government Technology, Essence Magazine, Working Mother Magazine, Black Enterprise, Ebony Magazine, Deliver magazine, Portland Business Journal, Geekwire, Colors of Influence, Neurology Now, the Chicago Tribune and on NPR.
"We are standing on the shoulders of our ancestors who are slaves. It's a responsibility in this life to walk through it with dignity, grace and integrity."
"Stand up for others and be fearless with it."
"Raise your hand, ask questions, be engaged, even if you know the answer to it. Don't be a wallflower."
Deena Pierott https://www.linkedin.com/in/dpierott
iUrbanTeen https://iurbanteen.org/
Do Better: Spiritual Activism
https://www.amazon.com/Do-Better-Spiritual-Activism-Supremacy/dp/1982151277
Follow Patti Dobrowolski – Instagram
https://www.instagram.com/upyourcreativegenius/
Linkedin
https://www.linkedin.com/in/patti-dobrowolski-532368/
Up Your Creative Genius
https://upyourcreativegenius.com/
Timestamp
[3:56] Meeting Deena Pierott and fling into Diversity, Equity and Inclusion
[7:23] Working with innovative ways to change policy
[8:44] How being a gay person in Texas is similar to Deena's experience
[10:21] You have to be yourself in corporate America
[10:55] How Deena started iUrbanTeen
[14:26] Growing iUrbanYouth, iUrbanUniversity and working with Microsoft
[15:57] Why Black Women in STEM was created
[17:19] Making change in the world where anything can be done
[19:20] It's never too late. What's your next thing?
[21:22] Who is an inspiration to Deena?
[22:56] How to tap into your creative genius? What's your routine?
[24:35] You got to have skin in the game
[27:52] Trick is to get into motivation and keep in momentum
[28:20] Workaholic, selfcare, and dealing with trauma
[31:30] Hurdles of being a black women founder
[34:30] Sometimes its easier to stand up for others
[36:27] What is the book you are reading right now
[39:40] Biggest tip for someone making a change
Patti Dobrowolski 0:03
Hello superstars. Welcome to the Up Your Creative Genius Podcast where you will gain insight and tips to stomp on the accelerator and blast off to transform your business and your life. I'm your host, Patti Dobrowolski. And if this is your first time tuning in, then strap in because this is serious rocket fuel. Each week I interview fellow creative geniuses to help you learn how easy it is to up your creative genius in any part of your life. Hey, everybody, it's Patti Dobrowolski. What's Up Your Creative Genius? Oh, my God. Today, I have just one of my favorite people in the universe. Deena Pierott. Now listen. So if you don't know who Deena Pierott is, I'm going to give you the lowdown on her and then she's going to tell us about herself. But first, I just want to say thank you to everyone who has been subscribing and listening to the podcast and writing reviews. You like drove us up in the charts! It's fantastic. I love it. And I'm so grateful I am because this podcast is all about making change: how you can make change happen. And I've invited all these changemakers who have decided to change the world for other people or for themselves or their business. And so Deena Pierott is a serious changemaker. I got to read you her bio. Okay, so she is a sought after diversity strategist, Talent Acquisition Professional and international keynote speaker, no doubt, she's created cutting edge DEI programs that yield results in impact. And you know, we need that. Okay. But here's what I want to say she served on a number of boards. She's really super amazing. And she started iUrbanTeen, which really helped to advance and allow for kids who didn't have access to computers to get them. And so I know you're going to talk a little bit about that. But before we go on, I want to say this, that she was honored to be acknowledged by President Barack Obama as a White House Champion of Change for technology inclusion, and by Ebony magazine on their Power 100 list. She is like been, in Essence Magazine, the top 50 black female founders. She's just amazing. I'm telling you, if I showed you this List of awards, you will be here forever. But my God, welcome to the show. Deena Pierott. You're amazing!
Deena Pierott 2:41
Oh, wow. Thank you. I you know, when I hear that stuff, I'm going is that me? And now that you know, because a lot of times you're so busy working and creating and working and creating that you have to sometimes stop and look back at you know, I did this.
Patti Dobrowolski 2:58
I know it.
Deena Pierott 2:59
I did this. Oh, I'm ready to cuss I got it. Because
Patti Dobrowolski 3:02
That's okay. i You should have seen somebody else I had was just F bomb every other word. Right? You're all right. Yeah. Here's the amazing. You are just incredible. And I met you because somebody decided that we should meet. We hooked up. We had lunch together with your granddaughter. Yeah. And we were both like, what are we doing in Portland? Wow, this place is so weird. And neither one of us live there anymore. So they're, you know, right.
Deena Pierott 3:34
I know. There you have it. But I just think it was just an instant connection. I wonder how they might just like, Look,
Patti Dobrowolski 3:41
I know, friends. I know. It is so good. And so I just been following. Honestly, I stalk you all the time to see what you're up to. And then I like, post "Deena Pierott, she's so amazing." So follow her and do stuff with her. Now tell us if you would in your own words, like tell us about you and how you got started doing what you're doing and you know, anything you want to share about it? Well, you know,
Deena Pierott 4:03
it's I'm going to try to make it a shorter story because usually I tell this long story with
Patti Dobrowolski 4:09
international keynote speaker that goes on. And
Deena Pierott 4:13
I sometimes I think I'm a Baptist preacher.
Patti Dobrowolski 4:17
Exactly. We love that. You know,
Deena Pierott 4:19
I always like to say, what's the why, you know, What's your why and things that you do. And sometimes you end up in a space that you didn't think he would be in, you know, 1015 20 years ago. So I kind of fell into the Diversity Equity work back in the 90s when I moved up to Portland from Compton, California.
Patti Dobrowolski 4:39
Alright, so there you go right now. Oh, now I'm from LA Oh, I know all about content. I know in the Portland is white, white.
Deena Pierott 4:48
Girl. Let me tell you, it's the whitest white folks I've ever seen in my life. And I even started fading. I was not this color. But I guessed it But then I instantly saw this disconnect, I saw this inequity on how people of color, especially the black community was treated. Yeah, no, I was called the n-word. I don't know how many times and I'm going I've never been called that in California. Right. Not that it doesn't happen, but it didn't happen to me. Right. I also saw when working in the workplace, the inequities there as well. I also saw how my own people and other people of color kind of were a little complacent to things where they didn't know how or didn't feel like they needed to advocate for themselves.
Patti Dobrowolski 5:36
Yeah. Would they just let it slide? Slide and just go, like, well, that's the way it is here.
Deena Pierott 5:43
And see, that was not me. Oh, no, not me at all. And so I instantly started creating different forums and different initiatives at the City of Portland. And it was interesting, because I worked for a director at a bureau who was from the East Coast. And he wholeheartedly gave me the platform to do what I did right now. I felt that he truly trusted my decisions. Yes, he believed in diversity and equity. And it gave me the floor, let me run with it. And I ran like hell. So I was able to create, like, I created the city's infinity groups that they have employee resource groups, in partnership with the mayor's office, the commissioners and all that and made it really meaty. I created so many different initiatives. Oh, my gosh, I made sure that all of our interview panels were reversed. I ensured that all of our panels for contract reviews were diverse. And that was in the 90s
Patti Dobrowolski 6:40
for for my cat popular. Wow, that's crazy. But I also
Deena Pierott 6:43
advocated for myself, and that scared a lot of people, you know, because here's this woman of color, a black woman that is holding her own. And yeah, letting you get away with this. And so, but what made me sad, Patti was a lot of the employees from different bureaus would come to me, and they would go Deena, can you ask my boss, if I could do this? If I can go here?
Patti Dobrowolski 7:05
Oh my God. I know that.
Deena Pierott 7:09
You know, and it
Patti Dobrowolski 7:10
makes me sad. Because that means that they don't feel empowered enough to go. They don't have the confidence to go maybe because somebody slapped him down. You know what exactly happened here? Yeah, fear of losing a job.
Deena Pierott 7:23
Exactly. And so I will tell them, No, you can tell them. And this is what you say and how you say it. Yeah, I still wouldn't do it, I would still go to their directors and ask these questions. And so, but someone told me and I remember that this was in like the late 90s. One of my own folks from the black communities that Deena, you're too opinionated. You rock the boat too much. You have to make them comfortable, meaning I needed to make white people comfortable. And I'm like, I don't need to make anybody comfortable. Exactly. And I say hold on a second, what plantation? Did I just arrived on? Exactly right. And so but that kind of pushback from not only the white community, but my own community made me try harder. Right. And so that's, I was creating initiatives that were way ahead of their time, and people are just now catching on. Right. So that was my last. And that was my journey into the diversity, equity belonging inclusion arena. And so I still get asked from different companies to either Keynote or to lead their teams on edgy innovative ways to change policy. How do you look at this through an equity lens? Yeah. And how do you do it? Not me, not how I how do you do it? Right? Yeah, within those companies. So that was the DEI journey. Yeah. Now, let's go to iUrbanTeen.
Patti Dobrowolski 8:44
Yeah, cuz I want to talk about them. I know. I love them. Well, the other thing is that, I mean, honestly, I'm a gay woman. So you can imagine my story isn't exactly the same. But it is about you. You have to come out every second. And then you know, I live in Texas now. So come on, people go meet my neighbors. And my neighbors were kind of like really skeptical about us. And then, you know, a young transgender kid came and left a card at our door and said, thank goodness, you have that sign in your front lawn? Because now I know that there's possibility for me.
Deena Pierott 9:19
Oh, see, right. You never know. You never know who you're the role model for? Or what pathways you're helping to create someone how you're helping their voice be heard. You never know. But for you or just to think if you didn't speak up, if you didn't feel comfortable in your own skin. Think about the health issues, the mental health issues. Yes, I would be steaming inside. That's why I tell people say something. You feel that you just had a micro or macro aggression thrown your way. Say something. It may not be that instant. It may not be that same day. It may not be that week. That's some point. I need to come to Patti Say, Patti, you know what you mentioned to me what you said to me last week, blah, blah, blah. It really felt like a microaggression. That's how it felt for me. How can we bridge this? You know, how can we do this differently? You need to be comfortable enough to have that kind of conversation. don't own that shit. Okay?
Patti Dobrowolski 10:18
Yeah, don't take it in. Don't, don't
Deena Pierott 10:21
get in,
Patti Dobrowolski 10:21
don't try to change yourself. This is me. Like I remember, I wanted to write a book called How to Be yourself in corporate America, because you have to be yourself have to be your own. You cannot. I mean, now, thankfully, some things are breaking open. But in big companies, it's still
Deena Pierott 10:38
the same. I still say that's not the company for you if it's feel that way. And that's why I tell all of my folks and even our students in Ireland team. Yeah, one of the things we teach them is how do you best advocate for yourself?
Patti Dobrowolski 10:50
I love that. So how did you start that? How did you start Ironman teen,
Deena Pierott 10:55
you know, the story goes, I was commissioner here on Governor Greg gwass. Commission on African American Affairs back in 2006, to 2011. And at the time, all of our ethnic Commission's were talking about the opportunity gap issue, especially for male youth of color, you know, falling through the cracks, being marginalized, disenfranchised, not having a clear pathway. And I'm an entrepreneur, I'm not one to sit back and meetings and boards, and just talk something to death over and over overnight,
Patti Dobrowolski 11:26
we got to get things going. We got to add some happen. You got to make some happen now.
Deena Pierott 11:31
So I instantly started looking at my community is being how if our families knew about the Running Start program, which is an amazing program, which has been graduate high school with not only a diploma but with an associate's degree. The issue was a lot of our brown and black families weren't aware of it because the school counselors were telling them yeah, of course not. That's not and so we were making sure that happened. Then I was asked to participate on a chief information officer Council in Portland. And I told my friend Mark, who arranged these for these councils all across the country, but I'm not a CIO. He goes, I know that, but you're innovative and we need you. So I went okay. Works for me. And so I went to the very first meeting, Patti, and I was a little late getting to the party. And so I opened the door, and it's a roomful of white men. Yeah, so imagine me walking in there with an afro wig on. Alright, I had a big curly Afro wig. Yeah, leopard print jacket, lay Yes. And big hoop earrings.
Patti Dobrowolski 12:34
I love it.
Deena Pierott 12:35
I went, oh, i Whoa. Okay. So. So during that meeting, I was sitting there and I said to myself, Okay, so over here we have these youth who are being disenfranchised, marginalized. Yeah, clearly don't have a pathway for success. But in this room, is where the opportunities are. That's right. So how do I reach this divide? And during that lunch meeting, I thought up iUrbanTeen, and within six months, we launched with the help of some of those men in the room, who were still engaged with me after all of these years. Oh, that's fantastic. We launched iUrbanTeen in October 2011, exactly 10 years ago, the 13th year, and wow, that was incredible. And I knew from the first event that we had to keep going because I saw this magic happening, you know, during those sessions, because everything we do is fast paced, hands on. Kind of eclectic, cool, kind of funky. You know, all of that. But it grabs them. It grabs your attention.
Patti Dobrowolski 13:38
Yeah, they'll switch a notch when they need you since we launched
Deena Pierott 13:43
in that 2008. Yeah. 2011 We have since launched in Seattle, Los Angeles, Dallas, Houston. We've also we're hoping to launch in New York and also in Miami, Florida, as well as several other cities in 2022 and 2023.
Patti Dobrowolski 14:02
Does that mean you get to go to those cities and launch they see now that's right and went to Texas Come on. You should call me because now
Deena Pierott 14:12
are you in Dallas or Houston or I'm in Fortworth? I'm close enough I could go to Dallas Yeah, Dallas Yeah, well you know we're gonna be working with the city of Dallas on expanding all right ramps there so we go I will definitely let you know.
Patti Dobrowolski 14:26
Yes, for sure. I love it. Alright, so you set up i Urban Youth, right. And you really helped them to create some programs that gave them access they didn't have before tools and resources and do you do internships too? How did you set the all that up?
Deena Pierott 14:44
We do you know, we started just kind of grassroots having these paid internship programs in Portland for high school students. Yeah, with partnership with Cigna and then there was a company I Otis that was there as well. And now because we've had so many youth over the years that have been with our program, now they're in college. So we had to launch I Urban University. Oh, yeah. That is for over 18 crowd. Yeah. And so now do they get mentorship and things like this? Yeah, we have mentors that work with them. Yeah, we have diverse instructors that work with them. And in all the thing that for this Ironman University, that's where we have our scholarships. We have our paid college internships there. And now we are launching a support engineer training program with Microsoft that launches early next. I love it. Oh, that's so we have women we have black women in this first cohort aged 19 to 46. Yeah, that will be trained by Microsoft and also go through the certification process where they can get jobs starting at 80 to 90,000 a year. Oh, after 120 hours worth of trade. i
Patti Dobrowolski 15:57
Oh my god, that's so fantastic. Now is this black woman in STEM?
Deena Pierott 16:02
That's separate. That's separate. That's I mean,
Patti Dobrowolski 16:05
oh my god, that is so incredible. Alright, so now talk about your latest thing, black woman in STEM,
Deena Pierott 16:12
STEM 2.0. And we call it 2.0. Because, you know, we change the M and stem to manufacturing. because math is interwoven in all the other elements as well, and sciences and technology and engineering. Math is already interwoven in that. So we wanted to add manufacturing, because yes, that's a segment that sometimes overlooked in the whole stem arena. Definitely. So a couple years ago, some of my colleagues and I wanted to create a platform or an association for women that are in those spaces that we can brainstorm, have training sessions for, conferences for and basic networking, and also sisterhood. Sister fellowship. That's right. And so that's what we did. And so this year, you know, we were supposed to have our conference last year, but because in Texas, but because of COVID Yeah. Hectic, nutso course. So this year, we are having the conference, and it's a hybrid, where we will have in person events and virtual sessions. I learned this this Friday and Saturday here in Bellevue, you know, which is a community.
Patti Dobrowolski 17:19
Oh, that's fantastic. Okay, I love that. All right. So look at how many I just so for those of you that are listening, so here is somebody that saw a need way back in the 90s. And then just built that, you know, went to bat for everything that she believes in, and then started to build the infrastructure to help other people. And this is what we're talking about is when you want to make change in the world, like yours is about big change in the world so that it will impact you know, your grandkids, it will impact your neighbors, your community. So these are the things that you did, but you are such an innovator because you sat in that room of all those. This is me, I'm imagining that because that's me too. I walk I know rooms with all white men, and I'm thinking Oh, yeah. Okay, now we're gonna have fun. Now I'm going to be myself and you guys are gonna love me at the end or else right? Yeah. And part of it is that you have to use your woo strength, but you also have to in that moment, you have to really build a bridge between your state of consciousness and theirs. And that's what you are. You excel in that when you do that, how do you do that? What is it that you do that you tap into in yourself to hear what needs to be done?
Deena Pierott 18:40
Well, you know, I just kind of sit back. I think I blame my mom for making me think and understand that I could do anything. Right. And I believed it. I fell for it. Yeah. And so I still believe I still know nothing. I believe I know that I can do anything well, and you have
Patti Dobrowolski 18:59
such that there's no reason why you shouldn't believe but what if you're a young person coming up? Or even if you've been working in a corporation for a long time or working for somebody else in the city for a long time, and you feel like, oh, yeah, yeah, but it's too late. And I'm almost going to retire. Why would I want to rock the boat? What would you say to them?
Deena Pierott 19:20
Oh, it's never too late. It's never too late. Like I just turned 63 You know, on October 6, and I'm are ready. I know. I'm already thinking about what's the next best thing? What's the next thing I could do? Right? I don't know how some of us fell into that trap of okay, well, now you're over 50 So it's time to slow down. Everything is downhill from there. I don't know who sent us that
Patti Dobrowolski 19:45
Milan. Oh, no, that was really big. Yeah. Now, you know, I'm older than you. So that's fantastic. I'm like, Yeah, I'm a year older than you. And so we look good girl. We look. I'm just saying and part of it is that We want to make sure that we're evolving. This is what you're saying is, what's my next thing? So that I want to know, like, when you have a vision for yourself, what's interesting to you right now? What are you fascinated with? That you can tell us about?
Deena Pierott 20:16
Well, you know, I think that for me, because I'm so people centered, I really want to do something if it is my own, like digital online magazine for women over 50, you know, women of color over 50, particularly, because that's an audience that's overlooked a lot of times, I'm kind of a, like a lifestyle brand type of thing that I want to do I want to get into podcasting, you know, like you. So that's what I feel that the next layer is for me. Yep, thing that's really cool and fun. I Urban Teen will always be at my heart. But you know, I'm building up the infrastructure now where I have now managing director for Portland and southwest Washington.
Patti Dobrowolski 20:57
Well, I see you have your infrastructure in there and the people that can do it. And
Deena Pierott 21:03
pretty soon it's when do I have all the gears in place where I can just kind of sit back? And just so funny,
Patti Dobrowolski 21:10
because when I saw you in Portland, you talked about that, then. So what's true is you have multiple gears now, before you were just working one gear for a while
Deena Pierott 21:21
working here, right?
Patti Dobrowolski 21:22
Now you got four gears all going at the same time. So that's Yeah, I think will be really, really amazing to see. And you know, who is inspirational to you right now in the world who you look out and you see, and you think, Wow, that is cool. I like that. whatever they're doing, is there anybody that is a role model for you, either now or in the past that really has helped you, and helps you as you get going on ideas? Do you have like your little cadre of sisterhood that you talk to about things, do you?
Deena Pierott 21:54
Well, you know, and that's interesting, because I think back on the person, that really was my inspiration, and I know, it may sound a little corny and all but it was my mother, you know, and she passed away suddenly, in 2010. I am such a rogue, that there really isn't anyone out there that I see that I want to learn from or any thing, it's sad to say, but it's sometimes when you are so much into your own.
Patti Dobrowolski 22:27
Yep. It's I know,
Deena Pierott 22:30
I have a lot, a lot, a lot of mentees or people women that want to consult with me on how do I do this? How do I do what you do? So but there's not a whole lot of others that I see that I can connect with, or brainstorm on. Because usually what I'm thinking about and what I'm envisioning, is so far out there that no one's been there yet.
Patti Dobrowolski 22:56
Yeah, I love that. That's fantastic. And so you really what you're doing is you're tapping into your own creative genius, that flow. So you just unlock that. And so tell me, what's your daily routine that you go through? That helps you unlock your creative genius? What
Deena Pierott 23:11
do you do? Well, you know, what I do is I just sit back in early morning hours when it's dead silent, and there's no noise, there's no nothing. I haven't even made coffee yet. I just sit in silence. And I just envision what I already have in place, how I can tweak it, how can I make it better? How can I do this? At the same time? How could I add in this creative edge into this? That's not been done before? You know, so I just kind of invid before I write down anything? Yeah, I first have a vision for it. Yeah. Then once the vision clicks, I'll start creating an outline for how I want to do this, then the next step is how am I going to implement this? You know, what's the impact on the students on the companies that I work for in the DEI space? Yeah. And sometimes when I'm even working with the companies like right now, I was working with a global tech company. And we did something totally different that they hadn't done before yet, right? Sometimes I'll work with them. Like, this is what I'm thinking, what how can we do this? So I'll get there. Like I tell companies, you've got to have some skin in the game, I can sit there and talk to you. I'm blue in the face around diversity and equity. But you've got to roll up your sleeves, and you got to help me make this happen.
Patti Dobrowolski 24:31
That's right. Because it's not gonna happen without them. Yeah. Because otherwise you're just a consultant coming in. And same thing, if I'm drawing a picture of the vision and nobody's attached to it, then sure, nobody cares.
Deena Pierott 24:44
And so if I give them the tools on how do they do this internally, where they don't even need me anymore, a lot of times you'll get diversity, people thinking or saying that they're diversity experts and consultants that intentionally want to keep that company so they can keep getting a
Patti Dobrowolski 25:01
paycheck. Oh, no, that's so what is that doing?
Deena Pierott 25:05
What is that mindset doing for this next level of students coming through? I haven't seen that might land at your workplace. Right? Yeah, exactly. What is that doing for my sons who are in the workforce now? Yes. What is that going to be doing for my granddaughters who had some yesterday and your workspace? I'd rather I'm this way. And that's why I don't think I'll ever be monetarily rich. I'd rather give them all the tools they can do right now. Yeah. And happen, attach it to action, create it, attach it to metrics, yep, with everything, letting them know where they need to pivot, so that they can be equitable and inclusive workspaces. Don't keep paying me for years and years to keep you sick. Yeah,
Patti Dobrowolski 25:46
that's right. Well, and one of the things that I'm listening to is that so you let the ideas germinate about where you are, and you envision how you could make a better so this my friend, Dawn calls this spinning the universe, you're really spinning the universe. Now using your imagination, then you get a plan, you get it down on paper, so that you've got something so that you know, okay, this is what we're going to do. And even if it's with somebody else, you get some partnership in there, so that you can make it happen. So you're not the driver of the activity, because the thing that you can be the driver at the beginning, but you don't want to be the driver for That's right. I
Deena Pierott 26:25
always say this is the hardest thing to do when you are someone like me and like you and that very creative space, is find people that share your rhythm. Yeah, right. Oh, that's right. Find people that share your rhythm. I spent so many years trying to consult with people who had no idea what I really wanted to do. Right, but I just knew that what they were saying didn't settle. Well. I'm like, yeah, yeah. And that's crazy. Oh, man. Thank you, man. Oh, thank you. So it took me a long time. And it's still really hard to try to find those people who share your rhythm, right? You're one of those people that share my rhythm. Yeah, we got to get things going girl stuff off the bat, right back and forth. In an hour sit in ideas, right?
Patti Dobrowolski 27:11
That's right. But then we got to go do them. We got to get people to help us do them. Like somebody in the background putting together your peloton machine right now, is that right? So if you're listening and you hear like the sound this clanking so Dina warned me that they were going to put up her peloton now and so whoever's back there doing that, you know, keep going and just know that this is what happens in a creative space. You have got to get everything happening at the same time, because there's not enough time in the day.
Deena Pierott 27:41
Yeah, the only thing Patti is I'm looking at them putting this peloton treadmill together now I'm going to have to use it. I'm like, Oh, yes,
Patti Dobrowolski 27:52
you're gonna have to use well, and and you know, I would say bite off just a small piece of that, like, I just start on things like that. Well, what's true for me is that I know if I don't dive full in and set a goal, that seems like whoa, I wonder if I could do that, then I will really get motivated to do it. I may not do it the next week, but I will that initial week getting myself going. So it's the trick to keep yourself motivated. And that's how it is with change, too. Right? You see something that needs to be changed, you get super excited at the beginning. But how do you maintain your own motivation? How do you maintain it? I want to know how you maintain,
Deena Pierott 28:31
you know, for me that and I gotta be honest, until they transparent, this whole self care thing sucks for me, because I don't know how to do it. I have such a workaholic. But I also learned about myself as I have to do this self care, I have to learn this piece as much energy that I'm putting into these ideas and these businesses. Yes, I have to put that in me. You know, I have been through a lot of trauma over the last 20 years. One of the coping mechanisms for trauma is to stay busy. Yes. So I stayed super busy, you know, and it wasn't until my husband that my son's father passed away of cancer in 2019 that I actually hit a wall. I hit a wall and I basically almost had a nervous breakdown. And I realized at that point, I said to myself, I'm a smart enough woman to know that I gotta walk through this trauma. Right? Yeah, trauma that I have been suppressing for over 20 years. And that was a constant it was a continued I just got busier just wrapped more up. Yeah. Then I thought about what I created under trauma. Right. The White House under trauma. I'm honored in the Lincoln Center in New York with Oprah Magic Johnson all of them because if I ever team under trauma, right, I've been all these things under trauma. And I think that's why if they all didn't really resonate with me, well,
Patti Dobrowolski 29:53
they don't really sink in. You're like yeah, I did that. I know that because I was on Broadway things like this. You Her major accomplishments you just sort of brushed him off. Yeah. Don't let them soak in. Yeah, yeah. That's great. Thank you so much. And then on to the next thing, because if you slow down too much, yeah. And you have to actually feel what's going on inside of yourself. Exactly. And really takes the passing of somebody who is important to you, to wake you up. I think sometimes, for me, it did. It was when my mom died. That was when I woke up. I couldn't get out of bed. Honestly, I couldn't get out of bed. I was just like, I don't know, you know, what's the point? And then I had to deal with all the things that had happened in my life. Right? Yeah.
Deena Pierott 30:37
Well, that's what I've been going through over the past couple of years, since his death is just sitting still and going through the things like, you know, the things that have happened over the years me being discriminated against in the workplace, and, and and all the pushback that I've had to deal with, and it has been a heavy lift. Yeah, me with all of my businesses here in the Pacific Northwest.
Patti Dobrowolski 30:59
Oh, you know, got it got to be because if you're in LA, you'd have our alliances.
Deena Pierott 31:06
Oh, yeah. Even if I was in New York, Boston, Chicago,
Patti Dobrowolski 31:09
any of the big cities, Dallas to the Dallas,
Deena Pierott 31:13
I just look at how well we're so embraced in Dallas and Houston. And you know, I just came back from Boston, that was in Boston in Portland, Maine. And it was a totally different vibe there. Yeah. You know, I loved it. So I feel that being a black female founder here in the Pacific Northwest, there's a lot of hurdles to go through. Yep. You know, a lot of hurdles. And it was a harder path to get here. However, I'm the total, optimistic, idealistic person, I feel that all of that struggle, all the traumas, things that I've gone through all of the hardships, helps make me the mosaic of who I am.
Patti Dobrowolski 31:57
Oh, it is, and you are so beautiful. You're such a beautiful mosaic that that is what true. And what I love about what you said, is that, you know, the composite of view. And all of us really is all of the things that we've had to go through all the, you know, all the N word, in your case, all the bottles thrown at me out of somebody's car window in LA, you know, all that stuff. Those are the aggressions that happen. And what's true is you understand your essence in the universe for good. You know, you're a vehicle for good. And so you take all that and just say, This is who I am. This makes me empathetic, right? This is where my empathy comes from. And this is where my need for connection. And also, this is where my I don't know about you, but my fuel to make change in the world comes from and you're spot on. You are just so incredible. And I'm so grateful that our paths crossed, because, gosh, I mean, you've just been doing so many things. Since I saw you in Portland. You were like a little lifeline to me in that weird deli that we were eating with your cute little granddaughter. So much older now. Leila Berg. Yeah, she's
Deena Pierott 33:19
nine years old. She will be 10 Pretty soon. And you know, crazy. I look at her and I see true leadership in Yeah, yeah. I was honored at Clark College a couple years ago as Iris award winner. Yeah, cool. When in the audience, my son, his wife, and the girls were the audience. And wow, when I was doing the acceptance piece, when I was accepting it, I looked over at my granddaughters, and I asked the audience, you know, can I have a moment I have a message I want to give my granddaughter Oh, my God. And they said yes. And so I asked my son, but Leila up on stage. And I said, because the other ones are way too little. And so I said, Leila, I said, I hope that one day you'll understand why your grandmother is being honored here tonight. And I also hope that you understand the pathway that I'm trying to create for you. I said, Leila, we are standing on the shoulders of our ancestors who were slaves. So it's a sponsibility in this life, to walk through it with dignity, grace, and integrity. Oh, you promise me you'll do that? And she shook her head. Yes. Oh, I blew her kiss. She blew me a kiss. The audience was crying. Oh,
Patti Dobrowolski 34:30
I bet. Oh, my God.
Deena Pierott 34:31
And I said, ladies and gentlemen, in 20 years, she'll be the one receiving this award. So let's give her a round of applause. Oh, I love that. Oh, it's speaking it into existence. Well, I just reader, I see such a leader in her and I see the empathy, the empathy in her there's a young boy in her classroom at school elementary school, who's autistic. And he says if the other kids fully handled Leila is the only one who's nice for him and stands up for him. Patti? I almost cried because I said, she's got it.
Patti Dobrowolski 35:02
That's it. Got it. She got it. She got the gene and the kids got
Deena Pierott 35:06
the gene she has a friend and the leadership, stand up for others. And be fearless with it, right?
Patti Dobrowolski 35:14
Ah, love it, stand by others and be fearless. With it, that should be all of our call to action, you know, really stand up for others and be fearless with it. And so even if you can't stand up for yourself, be sure to stand up for other people, because it makes a huge, huge difference. It really
Deena Pierott 35:32
is easier because sometimes they're more skeptical to stand up for themselves and advocate for themselves in the workplace. Yeah, but it's easier to advocate for someone else, you know, yeah, to see that lifeline for someone else as well, if you do it the right way.
Patti Dobrowolski 35:47
Yeah. And I think we need it. I mean, I think that if you know, so many people have been a mentor or an a door opener for me, in my life. And I think for you, too, you know, we get little doors open, and then we open the door way wide. For other people. We're like, let's get okay. Now everyone knows.
Deena Pierott 36:07
Let's go I want to do right. And the thing is, is that people need to like for me, I advocate for everybody. It doesn't care what color you are. What gender what anything. Yeah, I believe in fairness, I don't like to see an equity placed anywhere for anyone, you know. And so that's why I was fighting the good fight for
Patti Dobrowolski 36:27
fair, do you Yeah, you're so amazing. You just hear I'm telling you, you're so amazing. Now what I want you to tell people what you're reading right now. So they know what they should be reading to?
Deena Pierott 36:40
Well, right now I'm reading a book called do better. And it's all around advocating for others advocating for yourself, creating equity, where you are, I was just at the Harvard bookstore in Boston. And I saw it and I bought it. And so I just started reading it. Very good read. The other book that I just listened to on audio was cast about the cast. Oh, yes. Yeah, it's long. Listen, and you really sometimes you got to play it back. And I'll, but it's a very, very good, there is another book that I'm also kind of in between around equity in schools. So I'm always reading that kind of,
Patti Dobrowolski 37:18
well, you got to you have to, and everybody should be reading that, you know, Yeah, gotta just change your mindset all the time. Keep up. That's the thing. The other piece about change is, you have to keep up, keep up with what's important for you, and try to push yourself into areas where you don't feel comfortable, so that you can walk into that room filled with white men, and you can get what you need from the audience there. Right. Oh, God.
Deena Pierott 37:47
And you know, it's so funny. When I walked into that room that day, I kind of did the whole church thing on here I am so that they can pause the meeting. Yeah, I could walk straight through to the front room. And I tell some of the guys there. Can you move over? So I put a chair here, because there was chairs in the back of the room. But
Patti Dobrowolski 38:05
oh, yeah, well, back. Okay. That's right, exactly.
Deena Pierott 38:09
What up to the front. I had a move, but a chair there. And but what are the things that I tell women and people of color, when you're in those kinds of situations where you are one of none of other people is to be engaged? Don't be that wallflower. So as soon as it came time for questions, yes, I was the first one that raised my hand. And I asked a question that I already knew the answer to. But I did that. And I do that a lot of times in places that they can see I'm here, I'm engaged. I'm a part of this group.
Patti Dobrowolski 38:38
That's right. That's right. I love it. So raise your hand, ask a question. Even if you know the answer to even if everybody knows you're in the room and make a play, make it happen. And I would say that's true, even if you're on Zoom. Because in zoom rooms, it's really important to show up. So you turn your camera on, you got to look your best. And you got your hand up and you got to put comments in the chat. That yeah, that's fantastic. I've been
Deena Pierott 39:06
on something zoom things where it's a lot of people and these people are just sitting there like quiet. Are they
Patti Dobrowolski 39:10
advocator Tommy, would you entertain me, please? Yeah, I need some entertainment. Yeah.
Deena Pierott 39:15
And there's a way to have that engagement even on Zoom or whatever platform Yeah, data. So you know, in fact, we're having our stem a wean for the kids. We've had a couple of virtual stem conferences for the kids. That's fantastic. Fast paced, they're fun. They're this and yeah, they're they're engaging, you know, and also, I think we've pretty much mastered the engaging online presence, you know, stuff so
Patti Dobrowolski 39:37
well, you were engaging before when I came in drew with your kids. I mean, that was really, that was fantastic. I love doing that. So thanks for asking me to do that. Oh, they loved it, too. It was super fun now. Okay. So give us one last tip before we let you go. What's your one tip about change that you would tell to people say to people, you know people who are wanting to make a change What do you recommend that they
Deena Pierott 40:01
do? I would recommend that they learn how to embrace it. Change is inevitable. Yeah. So my biggest tip is to be comfortable with change. Be comfortable with the pivot, always be that Constant Learner. I mean, I truly embrace change, even if it's things that I have no control of. I try to understand it and all but even for myself, looking at what the peloton that's going to be changed for me because I admit, I've got to embrace look, I've got to embrace it. I'm going to look like Beyonce in about six months. Okay, that's right. But embrace you can you will like either, like kind of grandma. So. But yeah, so I can't imagine not looking forward to the future and change that happens. I think that when you are afraid of change, when you try to stop change, I think that's when you stop growing.
Patti Dobrowolski 40:55
Yeah. And when you start, then you're going backwards, you know, they're
Deena Pierott 40:58
going backwards,
Patti Dobrowolski 41:00
you either go forwards, or you go backwards, or you go backwards, so you got to keep going.
Deena Pierott 41:05
My tip is to embrace it to embrace change.
Patti Dobrowolski 41:09
I love it. I love you. You're so fantastic. I love thank you so much for spending this time with us listeners, we're gonna put into the show notes how you can get a hold of Deena Pierott because you're gonna want to follow her on Instagram and Facebook, wherever all LinkedIn all the places that she is. So look in the show notes. And I just take this to heart what she said embrace change, we live in a time of flux. If we're not going to get to a new normal flux is our new normal. So get good at change. And I can't wait to see what you do. So if you liked what you heard, you know, be sure to write a review about it or send me a DM on Instagram because we'd love to have you back and loved that you tuned in today to listen to all about Deena Pierott. I love you Deena. Thanks for being here. All right for having me on. My pleasure. Thanks so much for listening today. Be sure to DM me on Instagram your feedback or takeaways from today's episode on Up Your Creative Genius. Then join me next week for more rocket fuel. Remember, you are the superstar of your universe and the world needs what you have to bring. So get busy. Get out and up your creative genius. And no matter where you are in the universe, here's some big love from yours truly Patti Dobrowolski and the Up Your Creative Genius Podcast. That's a wrap